New Installation Charges:
(For normal 3/4″ line installations, larger and longer lines require more materials and labor.)
$500.00 Labor/Installation
$200.00 Refundable Deposit (refundable when selling/leaving prop.)
$295.00 Meter/piping/valves/misc. hardware/license fees/inspections
————-
$995.00  Total to start water to your new meter! (Homeowner is responsible for the piping and all else from the meter to the residence)
For 1″ line installation:
$1195.00
For 2″ line installation:
$3365.00
For an application to download and fill out, click HERE
Transferring Membership:
If you are wishing to transfer your membership to a new owner or renter, please fill out a Transfer Form (click HERE for the form) and send to us. There will be a $25.00 Administrative Fee assessed to the new owner of the account.
Once your meter is installed, or transferred to you:
You will be responsible for a monthly charge of $32.00 for your first 2000 gallons, incrementing as shown in the chart below. Note: even if you use NO water, you are responsible for the $32.00 monthly fee.
Here's an example of what your bill will look like: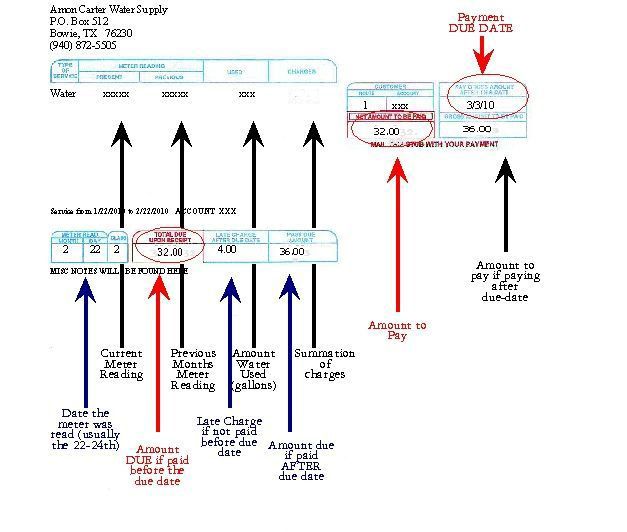 Your minimum charge per month is $32.00. Included in this fee is 2000 gallons of water! After usage exceeds the 2000 gallon minimum, charges are based on increments such as follows: (The city charges us $4.59 per 1000g over the minimum, we are only charging you $4.50)