New Installation Charges:
New Installation Charges:
(Normal installation is for a 3/4″ line. 1″ and 2″ lines are also available for unique circumstances)
Each installation is unique to its needs and lines. Please call us for an estimate!  (Homeowner is responsible for the piping and all else from the meter to the residence) New installations start at $1,500.00 and can be more depending upon the installation. (Whether an excess amount of piping, special requirements such as road boring, etc., is needed.)
For an application to download and fill out, click HERE
Transferring Membership:
If you are wishing to transfer your membership to a new owner or renter,  and the owner remains the same, please fill out a Transfer Form (click HERE for the form) and send to us. The new occupant(s) will still be required to issue to us a 200.00 deposit, and, as long as they remain in good standing with us, that 200.00 will be returned (minus any fees owed) at move-out time.
Once your meter is installed, or transferred to you:
You will be responsible for a monthly charge of $39.00 for your first 2000 gallons, incrementing as shown in the chart below. Note: even if you use NO water, you are responsible for the $39.00 monthly fee.
Here's an example of what your bill will look like: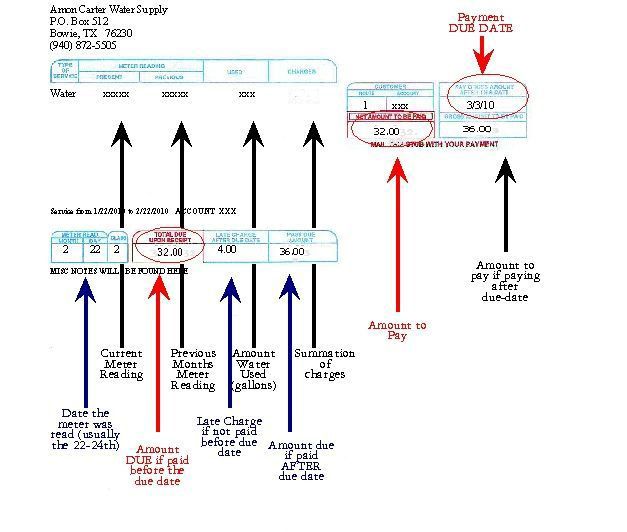 Your minimum charge per month is $39.00. Included in this fee is 2000 gallons of water! After usage exceeds the 2000 gallon minimum, charges are based on increments such as follows: